Cubby's is a unique place,
comfortable by comparison,
with much more to offer than classes,
gifts and atmosphere....
An Art Studio
Here's The Reason's to Purchase Your Bottle Tree Right Here, Right Now.
(We'll make it easy for you) Here are the answers to the questions we think you should ask.
No one sandblasts, paints, completely welds (not spot-welds) their trees and includes all the FREE gifts like we do! It's because we are an Art Studio. We also create/design all the free gifts we include with your order!
1. Some bottle trees that are being sold out there are only ½ inch thick, some are shipped with many pieces to put together and still some are actually hollow pipes! All our bottle trees are solid steel and are shipped in one or two pieces! If it is a two-piece tree from us, you simply slide the top piece into the bottom piece! Our shipping boxes are 60 inches long. Beware of trees mailed in smaller boxes. Smaller boxes mean more pieces to put together!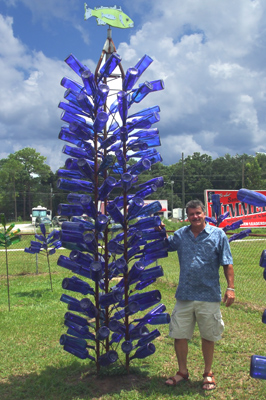 2. We sandblast all our trees and then we put a coat of brown paint on them before they are shipped. Some get painted silver. This coat of paint can be left "as is" or you can use it as a primer for whatever color you want to paint your tree! Sandblasting our trees insures a nice smooth finish and a great surface for us to paint. ALL trees will rust after awhile, just like swing-sets. They're meant to be outside and still rust. But, we've put the first coat on for you!
On a side note, we are the only ones who offer an option of having your tree Powder Coated
(40.00) Powder Coating will keep your tree looking good with very little rust for years and years.
Here's why you're going to love that we sandblast and paint our trees. We ordered a "big old bottle tree" from another company. When we opened it, it was dirty metal and not packed up at all. Everything was rattling around in the box and our hands got dirty just taking it out of the box. It sure wouldn't have made a nice gift to open. That won't happen to you with our trees! It's almost a pleasure opening and unpacking our Bottle Trees! They come packed very nicely indeed.
3. We own "Cubby's "An Art Studio". It's an actual art studio you can look up online. We own a regular "Brick and Mortar" storefront that you can come and visit anytime. We take pride in our finished bottle trees, like the rest of our art! We build our trees by hand, one at a time with Pride, Love and Good Karma! Just search the web right now for "Cubby's Bottle Trees" and you'll see how popular our bottle trees are and our bottle tree farm!
4. We include at least THREE free gifts with our bottle tree orders over .00 (before shipping). One FREE gift is a blue bottle that we drill a hole in the neck of the bottle. We also supply a suction cup. Simply hang the bottle by the suction cup and stick it to your window! You can then put a small fake (or real) flower in the bottle! We use our bottle to display our twigs in. Without it, where would we keep our twigs? You'll also receive a FREE "No Evil Spirits" Sticker and a Bottle Tree Button!
5. We prefer not to add a piece to the bottom of our trees to rest your foot on and shove it into the ground. Nor do we add any type of "stabilizer" feet. We prefer not to do these things because those trees, built like that, prohibit you from choosing the height of your tree. It's picked for you by the attached legs. With our trees, you have some flexibility as to the height. You can plant it higher or lower. Sometimes a few inches make the difference. Besides, most soils aren't so soft enough that you're going to be able to just "push" the tree into the ground. You can't do it here in Florida and we have almost nothing but sand. Almost every single bottle tree owner must dig a hole for the tree, period. We use a post hole digger, but you can use a regular shovel.
Also, don't be fooled by other bottle trees that have branches low to the ground. It will be a pain to mow or weed-eat around the branches! That's why we keep them off the ground.
6. You should know that almost every single crazy- colored bottle out there is painted. The paint scrapes off. Also, once these painted bottles are placed on a bottle tree, the sun starts to take its toll. Eventually the paint will fade and chip. Stay away from the temptation to buy these oddly colored bottles! Why do people even sell them if they are going to fade and look ugly after awhile?
Blue Glass is thought to have healing powers!
We personally believe in this folklore. My wife was diagnosed with Kidney Failure, ended up on dialysis and recently received a double transplant. All within 2 years! That's why we believe that particular folklore AND why we appreciate your business! But like most people, you can use any color bottles you have available.
7. If you're giving a Bottle Tree as a gift, rest assured, besides being sandblasted and painted brown, our trees are professionally packed! Your gift will look great when they are opened! With the other THREE free gifts included, it's the gift that keeps on giving! We will even include a special little note from you! Just let us know what you want to say and we'll make it look nice for you!
8. We are the only company to give the option on some of our trees to add branches! Just inquire before ordering if you feel you want to add branches. Some of our trees are too big and heavy to add anymore branches too!
9. Our Trees are WELDED, (not spot-welded like some). Solid construction means you can bend the branches without fear of them breaking off or falling apart, period! We've never had branches falling off or trees falling over, period.
10. We Promise, if you have any concerns with anything you purchase from us, we'll make it right! One way or another, you're going to be satisfied with your purchase! It's just how we roll.
ALL YOU HAVE TO DO IS SEARCH FOR "CUBBY'S BOTTLE TREES" ON THE WEB TO SEE HOW POPULAR OUR TREES HAVE BEEN TO SO MANY!
We LOVE talking to our customers!
Call us right now if you have any questions or prefer ordering over the phone.
352-341-0003

or

352-228-7020
.
You're awesome for purchasing one of our bottle trees from Cubby's!
We're awesome too and we're going to make you an awesome bottle tree!
Thank you so much for your business!